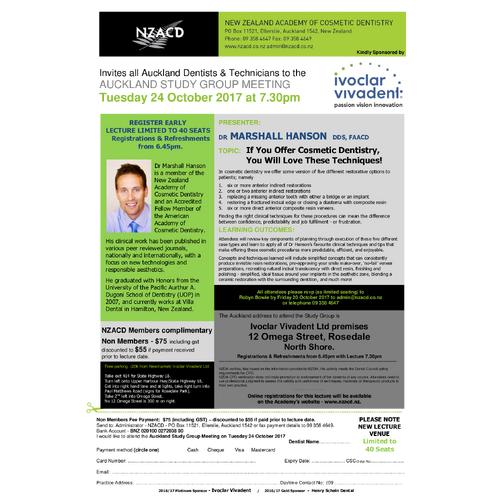 Auckland Study Group Meeting with Dr. Marshall Hanson
24/10/2017 07:30pm to 9:30pm
---
Buy tickets online
---
Information
**SOLD OUT** - Please phone our office for availability.
If You Offer Cosmetic Dentistry, You Will Love These Techniques!
In cosmetic dentistry we offer some version of five different restorative options to patients; namely:
six or more anterior indirect restorations
one or two anterior indirect restorations
replacing a missing anterior tooth with either a bridge or an implant
restoring a fractured incisal edge or closing a diastema with composite resin
six or more direct anterior composite resin veneers.
Finding the right clinical techniques for these procedures can mean the difference between confidence, predictability and job fulfilment - or frustration.
Learning Outcomes:
Attendees will review key components of planning through execution of these five different case types and learn to apply all of Dr Hanson's favourite clinical techniques and tips that make offering these cosmetic procedures more predictable, efficient, and enjoyable.
Concepts and techniques learned will include simplified concepts that can consistently produce invisible resin restorations, pre-approving your smile make-over, 'no-fail' veneer preparations, recreating natural incisal translucency with direct resin, finishing and polishing - simplified, ideal tissue around your implants in the aesthetic zone, blending a ceramic restoration with the surrounding dentition, and much more!
---
Downloads