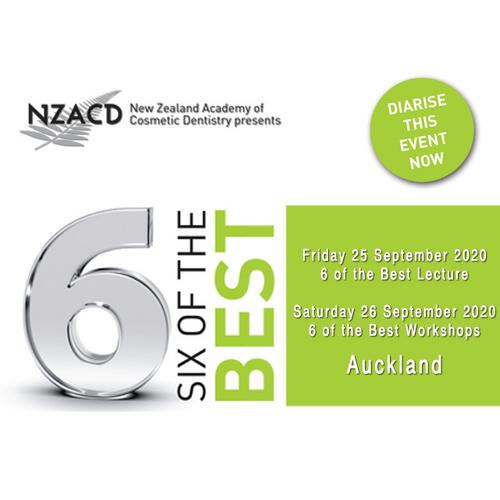 6 of the Best 2020
30/10/2020 08:30am to 5:00pm
Information
6 of the Best Lecture

Friday 30th October 2020
Cordis Auckland - Crystal Ballroom
83 Symonds Street
Auckland

Registrations from 7.30am
Lectures start at 8.30am

2020 Speakers
Dr Nick Cole
Topic: From a periodontal perspective - the tips and techniques we use to help approach or meet our patients expectations of cosmetic excellence.

David de Wet
Topic: Trending materials and techniques: A laboratory perspective.

Dr Chris Waalkens
Topic: Dental implants placement in the anterior region. Maximising aesthetics.
Implementing the 2017 classification of periodontal and peri-implant diseases in clinical practice.

Brooke Neal
Topic: Resilience through adversity and changing times - finding the calm in the storm.

Dr Andrea Shepperson
Topic: Digital inter-disciplinary planning.

Dr Clarence Tam
Topic: Minimally Invasive, Maximally Aesthetic V2.0.



















---
Downloads