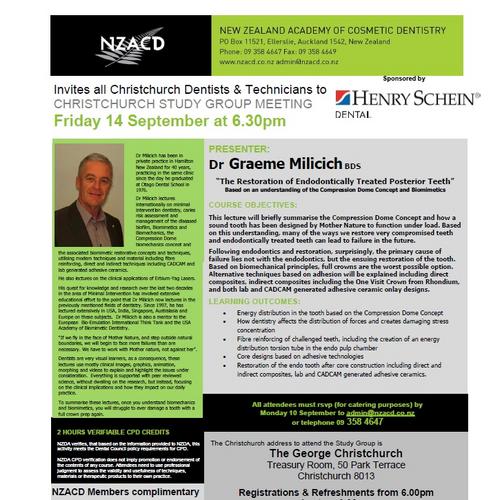 NZACD Christchurch Study Group September 2018
14/09/2018 06:00pm to 8:30pm
---
Buy tickets online
---
Information
Dr Graeme Milicich BDS
"The Restoration of Endodontically Treated Posterior Teeth" Based on an understanding of the Compression Dome Concept and Biomimetics
COURSE OBJECTIVES:
This lecture will briefly summarise the Compression Dome Concept and how a sound tooth has been designed by Mother Nature to function under load. Based on this understanding, many of the ways we restore very compromised teeth and endodontically treated teeth can lead to failure in the future.
Following endodontics and restoration, surprisingly, the primary cause of failure lies not with the endodontics, but the ensuing restoration of the tooth. Based on biomechanical principles, full crowns are the worst possible option. Alternative techniques based on adhesion will be explained including direct composites, indirect composites including the One Visit Crown from Rhondium, and both lab and CADCAM generated adhesive ceramic onlay designs.
LEARNING OUTCOMES:
 Energy distribution in the tooth based on the Compression Dome Concept
 How dentistry affects the distribution of forces and creates damaging stress concentration
 Fibre reinforcing of challenged teeth, including the creation of an energy distribution torsion tube in the endo pulp chamber
 Core designs based on adhesive technologies
 Restoration of the endo tooth after core construction including direct and indirect composites, lab and CADCAM generated adhesive ceramics.
Non Members Fee Payment: $75 (including GST) – discounted to $55 if paid prior to lecture date.
Send to: Administrator - NZACD - PO Box 11521, Ellerslie, Auckland 1542 or fax payment details to 09 358 4649. Bank Account – Westpac 031509 0102872 00 (note new Bank Account No).
I would like to attend the Christchurch Study Group Meeting on Friday 14 September at The George, Christchurch
Dentist Name: ………………………………………………
Payment method
---
Downloads