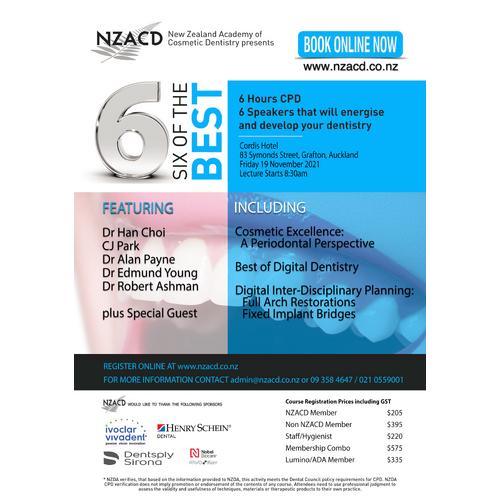 6 of the Best 2021 - Friday 4th March 2022
04/03/2022 08:30am to 5:00pm
Information
SPEAKER: Dr Han Choi
SPEAKER: Dr Alan Payne
SPEAKER: CJ Park
SPEAKER: Dr Edmund Young
SPEAKER: Dr Robert Ashman
SPECIAL INTEREST SPEAKER: Ms Megan Sharpe


Dr Han Choi BDS (Otago), MBChB (Dunedin), MDS (Dunedin)
Lecture Title:
Full arch implant rehabilitation – Surgical aspect
Lecture Synopsis:
Edentulous and terminally dentate jaw have been successfully rehabilitated with dental implants without need for bone grafting for many years. I will be talking about the concept of graftless approach (including convention, zygoma, and pterygoid implants), immediate loading, and possible complications.
Learning Outcomes:
• The concept of graftless approach to edentulous jaw.
• Selection of number of implants and types of implants depending on the degree of bone resorption.


CJ Park BDentTech (Otago), PGdipDentTech (Otago)
Lecture Title:
Digital planning and designing of full-arch restorations: The dental technician's critical role from case planning to final restorative options.
Lecture Synopsis:
Dental materials science has always played an important role when it comes to case planning and delivering of immediate/delayed temporary and final restorations. The lecture will cover modern material comparisons for full-arch bridges and how it can affect the design and aesthetics of each type of restoration or prosthesis.
Learning Outcomes:
• Understand the different materials out in the market for immediate transitional full-arch bridges and their pro-sand cons.
• Understand the importance of material choices when we come to make permanent full-arch implant bridges.
• Understand the relevant basic dental materials science and what to look for when we come to compare the different materials.
• Understand the different design concepts of full-arch zirconia bridges: layered/veneered vs monolithic zirconia.
• Understand the limitations associated with these different designs.


Dr Alan Payne BDS MDent (Witw), DDSc (Otago), FCD (SA)
Lecture Title:
From a prosthodontic perspective – using, understanding, and managing analogue and digital workflows for full-arch fixed implant bridges.
Lecture Synopsis:
Clinicians are currently overwhelmed with modern approaches to resolve the terminal dentition or the edentulous predicament. They are coupled with the myriad of different recommended treatments, designs and materials for full arch fixed implant bridges, often with abbreviated treatment times. The lecture will add clarity to prosthodontic analogue and digital workflows, what are they, when to use them, their limitations and when to cross-over between both for full-arch fixed implant bridges.
Learning Outcomes:
• Understand the importance of patient selection for full-arch fixed implant bridges in edentulous patients or those with a terminal dentition.
• Understand the application of historical approaches and experiences.
• Indications for using analogue, digital or digi-analogue workflows to make both transitional and permanent full arch fixed bridges.
• Understand different prosthodontic designs e.g. ceramic; metal-ceramic; metal-hybrid.
• Understand stage sequencing in each workflow and how to manage the occlusal schemes.
• Understand the burden of prosthodontic maintenance with different designs and materials against the background of the current scientific literature.


Dr Edmund Young BDS (Otago)
Lecture Title:
WTF …. Wait for it!, Touch it!, Fracture it!
Lecture Synopsis:
The modern adhesives and bonding techniques available now enable clinicians to confidently restore compromised teeth. An overview of how another approach maybe an alternative option that will imitate the aesthetic and functions of a natural tooth.
Learning Outcomes:
• Factors that increases the chances of a success for bonded restoration will be reviewed systematically.
Dr Robert Ashman BDS (Otago)
Lecture Title:
The Best of Digital Dentistry
Lecture Synopsis:
Experience the best in Digital Dentistry 60mins. Following this presentation of real cases, you will have a comprehensive overview of how to complete crown, bridge, and implant cases completely impression free, in record time and with precision results. You will know what is needed to get started with digital dentistry, how long it will take to become proficient and how easy it is to integrate with your team. You will also see exclusive 3Shape TRIOS features and Zircad Prime –the most aesthetic, high strength zirconia available from Ivoclar Vivadent.


Ms Megan Sharpe
Lecture Title:
'THINKing in Dentistry'
Lecture Synopsis:
Unlocking the power of whole brain thinking in the practice, the team, and individuals. Why is it that some people get your point straight away while others never seem to understand you? Have you ever wondered why some team members work well together and others don't? We all think differently. Identifying thinking preferences and blind spots can provide a significantly increased level of personal understanding. Just as awareness of differences in thinking style preferences within your team can build acceptance and understanding. There are no right or wrong thinking preferences. Cognitive diversity is the latent source of our ability to succeed as a team and find meaningful roles for everyone involved. Fostering a positive psychology approach, 'Whole Brain Thinking' is a preference-based model developed from an understanding of neuroscience. It provides a validated positive and inclusive way to identify thinking preferences without pigeonholing or non-productive labelling. Let thinking be your competitive advantage. Embrace the diverse thinking of your team - align and utilise the full range of your team's thinking preferences and differences.
Learning Outcomes:
• Contemplate individual preferences and the consequences of individual profiles of those around you.
• Understand own thinking to best apply it for better productivity, communication, collaboration, and innovation.
• Identify your preferred approach to emotional, analytical, structural and strategic thinking.
• Apply 'Whole Brain THINKing' to everyday activities and business issues understanding and using neurologically preferred thinking preferences.
• Better understand how you, and others, prefer to think to improve communication and decision making.
---
Downloads
| Type | Name | Kind | Size | Actions |
| --- | --- | --- | --- | --- |
| | eBrochure | PDF | 693.6KB | |