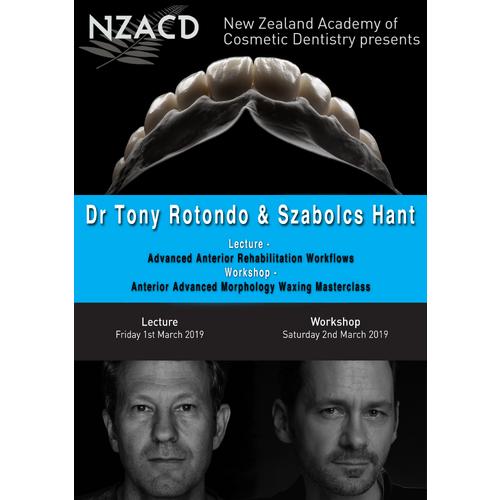 Dr Tony Rotondo & Szabolcs Hant - Lecture
01/03/2019 08:00am to 5:00pm
---
Buy tickets online
---
Information
Day 1 – Lecture Friday 1st March
Advanced Anterior Rehabilitation Workflows

Aesthetic guidelines.
To begin with we will review the micro-aesthetic and macro-aesthetic principles that guide modern restorative dentistry. These guidelines will then be integrated with Christian Coachman's Digital Smile Design concepts and applied to the management of complex aesthetic rehabilitations. Work flow for composite resin, veneers and full coverage restorations will be presented and detailed in a step by step manner.

Management of a complex rehabilitation.
In this lecture we will take a complex case and take attendees through it in a step by step manner, detailing the specifics of ordering a waxup, converting the wax up to provisional restorations that reflect the definitive plan for the case and ultimately converting the provisionals to and selecting the final restorations.

Shade taking photography & Laboratory communication.
In this lecture we will detail key elements that are required to deliver laboratory work that is of a high standard. Great work doesn't happen by accident and requires specific efforts by both the restorative dentist and ceramist. Teamwork is essential, this lecture will deliver the specific processes required to deliver work that isn't a disappointment.

Soft tissue management, guidelines for success.
Soft tissue management is an essential element in more complex aesthetic cases. Margin location is critical in this type of case and different concepts will be discussed. Soft tissue Management is also critical when closing diastemas and when gross alterations of form are required. Pontic design and the management of tissue at the pontic site will be discussed in detail.

---
Downloads