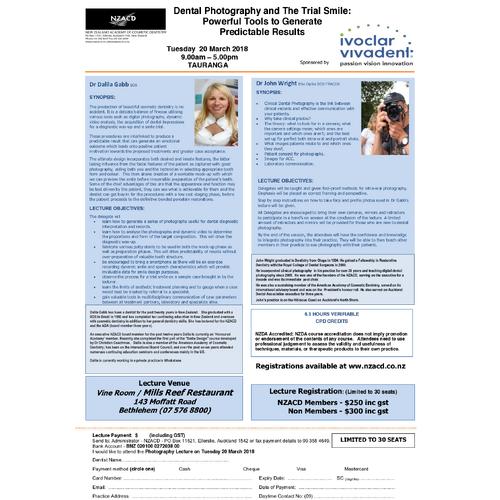 Tauranga Study Group: Dental Photography and The Trial Smile
20/03/2018 09:00am to 5:00pm
---
Buy tickets online
We have membership ticketing pricing available, sign in here if you're a member! Members can access earlybird ticketing & discounted rates!
---
Information
Dr. Dalila Gabb will be discussing the following topics:
Generate a series of photographs useful for dental diagnostic interpretation and records
Learn how to analyse the photographs and dynamic video to determine the proportions and form of the target composition. This will drive the diagnostic wax-up.
Fabricate various putty stents to be used in both the mock-up phase as well as preparation phases. This will drive predictability of results without over-preparation of valuable tooth structure.
Be encouraged to bring a smartphone as there will be an exercise recording dynamic smile and speech characteristics which will provide invaluable data for smile design purposes.
Observe the process for a trial smile on a sample case brought in by the lecturer.
Learn the limits of aesthetic treatment planning and to gauge when a case would best be treated by referral to a specialist.
Gain valuable tools in multidisciplinary communication of case parameters between all treatment partners, laboratory and specialists alike.
Dr. John Wright will be discussing:
Giving fool-proof methods for intra-oral photography. Emphasis will be placed on correct framing and perspective. Step by step instructions on how to take face and profile photos used in Dr Gabb's lecture will be given. All Delegates are encouraged to bring their own cameras, mirrors and retractors to participate in a hand's on session at the conclusion of the lecture. A limited amount of retractors and mirrors will be provided for those who are new to dental photography. By the end of the session, the attendees will have the confidence and knowledge to integrate photography into their practice. They will be able to then teach other members in their practice to use photography with their patients.
---
Downloads