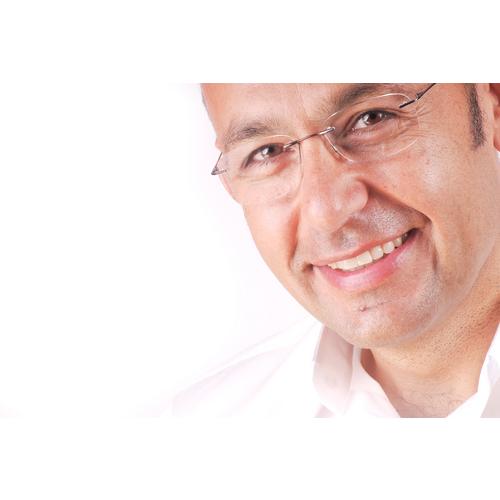 Dr Galip Gurel
27/03/2020 08:30am to 28/03/2020 05:00pm
---
Buy tickets online
---
Information
DR GALIP GUREL


Day 1 - Friday 27th March 2020
Morning - Part 1
Basic introduction to the APT concept

The story of APT (Aesthethic Pre-evaluative
Temporaries).
The story of the silicone indexes.
The story of the preparation through the APT technique.
Basic Analog workflow for the anterior bonded porcelain restorations.

Morning - Part 2
Importance of the mock up (analog/digital)

Creating awareness.
Presenting the case to the patient - the direct mock up.
The mock up as the navigator.
The mock up as the diagnostic tool.
Classification and different types of direct.

Afternoon - Part 1
The Art of the Personalised Smile Design

Different personalities, different choices.
Personality traits (Hippocrates).
Different cultures, religions, backgrounds, traditions .. however a single universal VISUAL LANGUAGE (Carl Jung).
Understanding the basic shapes and their perception.
Difference between looking and seeing.
VISAGISM (the creation of a customized personal image).
VISAGISMILE (the creation of a customized personal smile design).
Analysis of the face and its perception.
Analysis of the personality.
Research amongst the dentists about perception.
How to relate the Visual language and the shapes, to the facial anatomy and personality.
How to clinically apply the technique.

Afternoon - Part 2
Handling the Worn dentition (Occlusion in Clinical practice)

Digital vs Analog.
Diagnosis.
How to differentiate Bruxism from other types of wear.
Treatment options.
Opening the bite /Restorative /orthodontics / and orthodontics - restorative combination).
Aesthetic mock up vs functional mock up.
Aesthetic plane of occlusion.
Defining the exact VDO.
Customized jig preparation.
Kois deprogrammer.
Bite registration.
Retral Contact Position vs Inter Cuspal Position.
Tooth preparation posterior vs anterior



Day 2 - Saturday 28th March 2020 (Limited to 30 delegates)
Morning - Part 1
Visagismile in 3D .. the REBEL Digital (LIVE)

In this LIVE section Dr Gurel will be demonstrating LIVE on a patient (and may be one for one of the attendees), how to make an Indirect Mock up through the brand new 3D Digital software called the REBEL.
A new Smile Design will be created and tried one of the attendees according to the VisagiSMile proposal.
The protocol for the REBEL will be explained in to full details.
Bring your laptops with you if you want to.
All you have to do is to follow the REBEL software protocol and workflow.

1) make a very simple mockup ONLY on a CENTRAL, intra orally scan it creating a 3D STL file.
2) follow the 5 full face photo protocol and make the 1 minute interview with the patient.
3) Digitally scan intraorally, and send the 3D STL file to the digital wax up center.
PS: During the rest of the day, within less than an hour the 3D STL file of the New Smile design proposal will arrive. Then will be 3D printed to be ready for the same day to be placed in the patient mouth.

Morning - Part 2
Lecture
Tooth preparation techniques for complicated situations (in details).
Additive vs Subtractive conditions.
How to deal with the protruded teeth.
How to to handle the teeth that are to much palatally positioned.

Hands on
Hands-on Course On Models For All Participants.

Mock-up (according to Visagismile and REBEL proposal).
Preparing the translucent silicon impression through the wax up model.
Preparing the silicon index.
Checking the smile with index.
Aesthetic Pre-recontouring — APR.
Aesthetic Pre-evaluative Temporaries — APT.
- Evaluation of aesthetics through APT.
- Tooth preparation through the APT.
- Using depth cutters.
- Using different diamond burs.
- Finishing the margins.
Modifying the translucent silicon impression for the provisionals
Making the provisionals using RSVP technique
Rechecking the provisionals for aesthetic
Afternoon - Part 1
Continuation of the morning Hands on program

Afternoon - Part 2
LIVE application of the REBEL 3D Digital wax up
Analysing the 3D printed models from REBEL.
An impression of the 3D printed model is made with a silicone impression.
And an APT is made through the silicone impression in the patient's mouth.
Checking the final outcome LIVE on the patient
---
Downloads