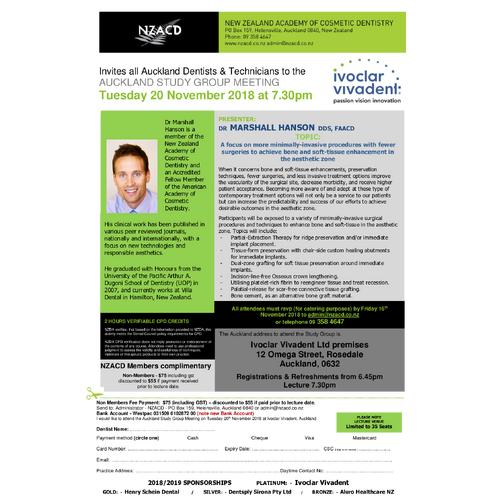 NZACD Auckland Study Group
20/11/2018 07:00pm to 9:30pm
---
Buy tickets online
---
Information
PRESENTER: DR MARSHALL HANSON DDS, FAACD
TOPIC:
A focus on more minimally-invasive procedures with fewer surgeries to achieve bone and soft-tissue enhancement in the aesthetic zone
When it concerns bone and soft-tissue enhancements, preservation techniques, fewer surgeries, and less invasive treatment options improve the vascularity of the surgical site, decrease morbidity, and receive higher patient acceptance. Becoming more aware of and adept at these type of contemporary treatment options will not only be a service to our patients but can increase the predictability and success of our efforts to achieve desirable outcomes in the aesthetic zone.
Participants will be exposed to a variety of minimally-invasive surgical procedures and techniques to enhance bone and soft-tissue in the aesthetic zone. Topics will include:
- Partial-Extraction Therapy for ridge preservation and/or immediate implant placement.
- Tissue-form preservation with chair-side custom healing abutments for immediate implants.
- Dual-zone grafting for soft tissue preservation around immediate implants.
- Incision-line-free Osseous crown lengthening.
- Utilising platelet-rich fibrin to reengineer tissue and treat recession.
- Palatial-release for scar-free connective tissue grafting.
- Bone cement, as an alternative bone graft material.
---
Downloads
| Type | Name | Kind | Size | Actions |
| --- | --- | --- | --- | --- |
| | AKL Nov | PDF | 207.4KB | |