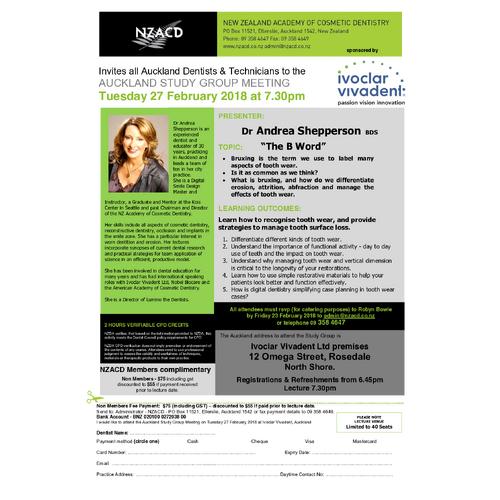 Auckland Study Group: The B Word
27/02/2018 07:30pm to 9:30pm
---
Buy tickets online
We have membership ticketing pricing available, sign in here if you're a member! Members can access earlybird ticketing & discounted rates!
---
Information
Dr. Andrea Shepperson will be discussing the following topics:
Bruxing is the term we use to label many aspects of tooth wear.
Is it as common as we think?
What is bruxing, and how do we differentiate erosion, attrition, abfraction and manage the effects of tooth wear.
LEARNING OUTCOMES:
Learn how to recognise tooth wear, and provide strategies to manage tooth surface loss.
Differentiate different kinds of tooth wear.
Understand the importance of functional activity - day to day use of teeth and the impact on tooth wear.
Understand why managing tooth wear and vertical dimension is critical to the longevity of your restorations.
Learn how to use simple restorative materials to help your patients look better and function effectively.
How is digital dentistry simplifying case planning in tooth wear cases?
---
Downloads