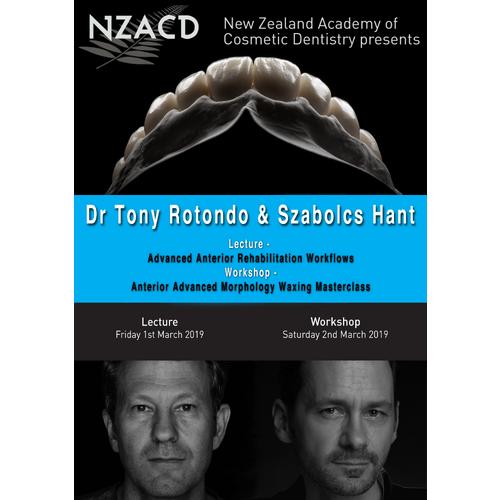 FULL - Szabolcs Hant Workshop - Stream 1
02/03/2019 08:00am to 5:00pm
---
Buy tickets online
---
Information
Day 2 – Szabolcs Hant Workshop Saturday 2nd March
Crowne Plaza Auckland - Albert Room
128 Albert Street, Auckland
Anterior Advanced Morphology Waxing Masterclass

Everything starts with a good plan and the same is true for a nice smile. We start the planing with digital tools and we execute with a diagnostic wax-up. Understanding tooth morphology is paramount to success and wax-ups are a fundamental tool for diagnosis and communication. Wax-up is also great if you want to improve your skills about shape, morphology and texture. If you learn with wax how to create a beautiful tooth, then you can complete the same with other materials.

Objectives:
Introduction into smile design. Basic principles for a nice smile. How to determine incisal edge position as a key element for diagnostic waxups. Anatomy and morphology of the upper anteriors. How to alter the shape and the appearance of the teeth with the line angles. How to create young, middle and old age teeth. Select the right armamentarium including type of wax and tools.
---
Downloads