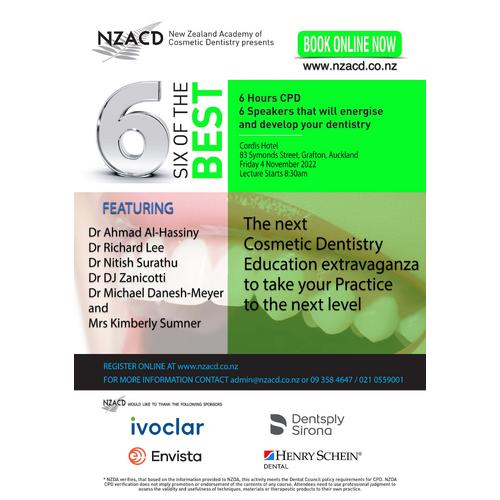 6 of the Best 2022
04/11/2022 08:30am to 5:00pm
Information
SPEAKER: Dr Ahmad Al-Hassiny
Lecture Title:
How to transition into digital dentistry successfully and get the right equipment for your practice.
Lecture Synopsis:
Digital technologies are changing dentistry as we know it. It is no longer a fad or hype topic. This is the future of our profession, and it is here and now. In this lecture, Dr. Ahmad Al-Hassiny from the Institute of Digital Dentistry will go over everything you need to know to make your investment in digital dentistry a success! Starting with the intraoral scanner market as a whole and which are the best scanners to invest in for your individual practice needs. We will then go through all the different workflows and options that exist for you once you start your digital dentistry journey. Whether it is 3D printing - what printers are best? How does it work etc? Or CAD/CAM and single-visit restorations in-house. We will also cover the more advanced aspects of in-house digital dentistry such as photogrammetry. This is a no-holds-barred discussion of the entire digital dentistry market and where you should consider investing your money. Don't fall behind.
Learning Outcomes:
- Understand the difference intraoral scanner options and their pros and cons
- Learn about 3D Printing and it's many applications in dentistry
- Learn about the different 3D printer options and how they differ
- Explore incorporating CAD/CAM in-house and how it can change your practice
- An overview of more advanced digital dentistry techniques such as digital dentures and photogrammetry
SPEAKER: Dr Richard Lee
Lecture Title:
Creating ultra-realistic composite restorations: The power is in your hands
Lecture Synopsis:
This lecture will discuss the components of tooth colour and how to systematically assess and replicate tooth structure whether it be single class IV restoration or multiple composite veneers. Particular emphasis will be placed on creating the correct primary, secondary and tertiary anatomy and the appropriate finishing techniques.
Learning Outcomes:
Delegates at the end of this lecture will:
- Understand the components of tooth colour and how these can be replicated
- Understand the importance and techniques of pre restorative planning
- Reacquaint themselves with correct anatomy and tooth form
- Learn appropriate finishing and polishing techniques


SPEAKER: Dr Nitish Surathu
Lecture Title:
Management of maxillary labial and buccal bone deficit by the use of innovative angled solutions.
Lecture Synopsis:
Maxillary labial and buccal bone deficits often present significant challenges to the clinician attempting to provide an implant based solution for missing teeth. While grafting is certainly an option, the clinician can certainly consider the use of angled implants or custom abutments with angled screw channels along with CBCT based surgical planning that is based on the final intended restoration. These options allow clinicians to provide aesthetic restorations where they were once regarded as difficult without extensive grafting. Innovative implant designs that allow changes to the axial inclination of the implant connection and the prosthetic screw and custom fabricated CAD designed angulated screw channel abutments allow the clinician to retain a screw retained approach even in the most difficult bone deficit situations. Placement of implants in native bone rather than grafted bone is also often possible and these solutions offer a restorative advantage that can be effectively planned and executed.
Learning outcomes:
Attending participants will familiarise themselves with innovative approaches to the management of maxillary labial and buccal bone deficits. An understanding of clinical situations where these approaches are possible will also be discussed during the presentation.


SPEAKER: Dr DJ Zanicotti
Lecture Title:
Tips for achieving high aesthetic outcomes with dental implants
Lecture Synopsis:
In this lecture I will explore key aspects of placing dental implants in the aesthetic region. Topics of discussion will include anatomical considerations, timing for implant placement, prosthetic timing, and prosthetic design.
Learning Outcomes:
At the end of this lecture, the audience should be able to evaluate and perform treatments involving dental implants in the aesthetic region with more confidence.

SPEAKER: Dr Michael Danesh-Meyer
Lecture Title:
Managing the peri-implant interface for long-term aesthetic & functional success
Lecture Synopsis:
The peri-implant tissues form the biological seal around dental implants. The integrity of this interface is important to ensure predictable aesthetics and function of dental implants in the longer term. This lecture we will explore the key criteria necessary to ensure to long-term stability of the peri-implant tissues. We will examine the surgical enhancement of the soft tissue interface, the biocompatibility of different implant restorations and the management peri-implant complications.
Learning Outcomes:
- Identify the key factors responsible for predictable aesthetics and long-term stability of peri-implant soft tissues
- How to achieve predictable aesthetic outcomes with soft tissue enhancement around dental implant
- Understand how biocompatibility and design of implant restorations can impact on peri-implant tissues
- Treatment protocols aimed at enhancing peri-implant tissues around dental implants
- Re-establishment of the peri-implant tissue health & stability after periimplantitis

SPEAKER: Mrs Kimberly Sumner
Lecture Title:
More New Patients Without the Stress
Lecture Synopsis:
- Social proof is here to stay - Understand the biggest and most powerful change in how people find dentists since the yellow pages went out of vogue.
- Learn the simple and straight-forward connection between Google reviews, Google My Business, and being found in Google (where 85% of new clients look for new dentists*). Plus, why you shouldn't spend any money on advertising until you have this sorted first.
- Discover how dentists can utilise this for a steady stream of new patients without the stress once the 3 key components integral to getting a new patient appointment are connected —- from search to website to front-desk conversion. And since it's easy for a new patient prospect to fall through the cracks, why advertising will not get you patients if any of these aren't sealed up.
- Uncover the key metrics that identify how your new patient "funnel" is working for you in delivering the new patients you want, using real life examples and case studies.
- Learn practical tips to manage two of greatest obstacles for getting good google reviews - (i) how to manage a negative review, and (ii) how to ask for a review without sounding pushy.
- Attendees walk away with greater understanding of how to get more new patients in a stress freeway, with immediate and straight-forward action steps they can move on tomorrow.
---
Downloads
| Type | Name | Kind | Size | Actions |
| --- | --- | --- | --- | --- |